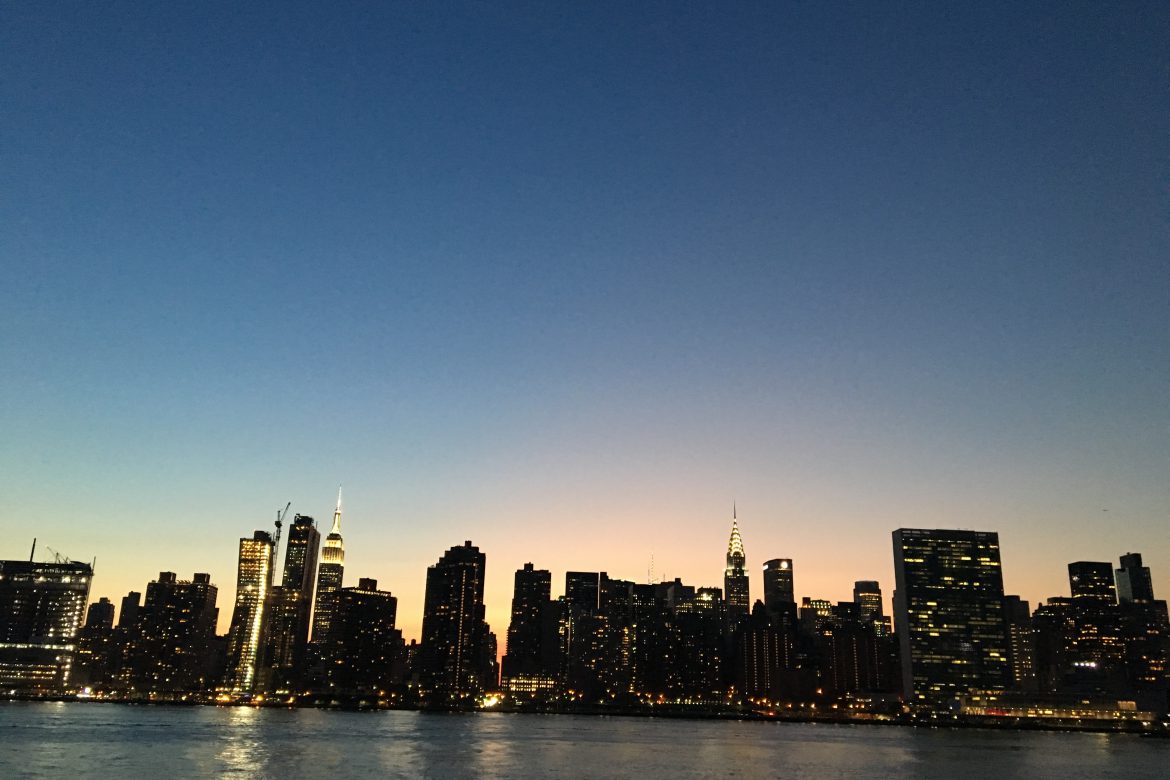 Here's To Us, New York—Happy Four Years
Dear New York,
It's me — The Tiny Dancer. I just stopped by to say Happy Four Years to us.
Four years ago today, we were simply meeting. I didn't know what adventures you'd take me on, where our favorite spots would be, where we'd make unforgettable memories, or how my life with you would unfold. Four years ago today, we had a completely blank page.
And now we have pages upon pages of a gorgeous and intricate story.
These past six months have been a whirlwind, as per usual. I finally gave up my WV driver's license, replacing it with one with your name on it, and I became a member at my church. I found out I'm going to be an aunt, and I went to my first silent disco — right on the water overlooking your stunning skyline. I saw countless shows, was a NYC-voter, and took a yoga class at a cat café. I secretly planned and rehearsed with some of my best friends to surprise my parents with the New York Premiere of Memories Live Within The Heart, and I danced at a nursing home, meeting many special people. I got a horrendous sunburn from my day of eating hotdogs at Coney Island, and I went on a vacation filled with adventure. I drank beer at our favorite beer garden, and tasted my first Levain cookie. I went on a work retreat, and I continued living my Year Of The Uncomfortable, pushing my own limits. I finally created a website, and I started challenging myself with Improv Thursday's all over your intricate landscape. I ate a ton of BBQ while listening to country music in the park, and I did a handstand in the gigantic Astoria pool. I celebrated birthdays, and I started work on a brand new dance that I'm watching unfold. I went to the US Open, and I saw Venus Williams win the first live tennis match I've attended. I rode the Central Park boats as I've done countless times before, and there, on your calm waters, I got engaged to my best friend.
Having that happen with you, New York, was so utterly perfect.
Because of you, I've made friends that have become an integral part of my life. They are people who I now cannot imagine life without. You were the reason we met.
Because of you, I have been able to share interesting, special, and hilarious experiences with my family. We have stories to look back on fondly and smile. You provided those for me.
Because of you, I became a bit sassier, though you still let my West Virginia-heart shine. You bring out both of those in me.
On our Four Year Anniversary, New York, I want to thank you for the story we've already written, and the story we are getting ready to write. Thank you for your sparkle, your grit, your individuality, your acceptance, and your beauty.
Here's to our past. Here's to our future. Here's to us.
With love and admiration,
The Tiny Dancer