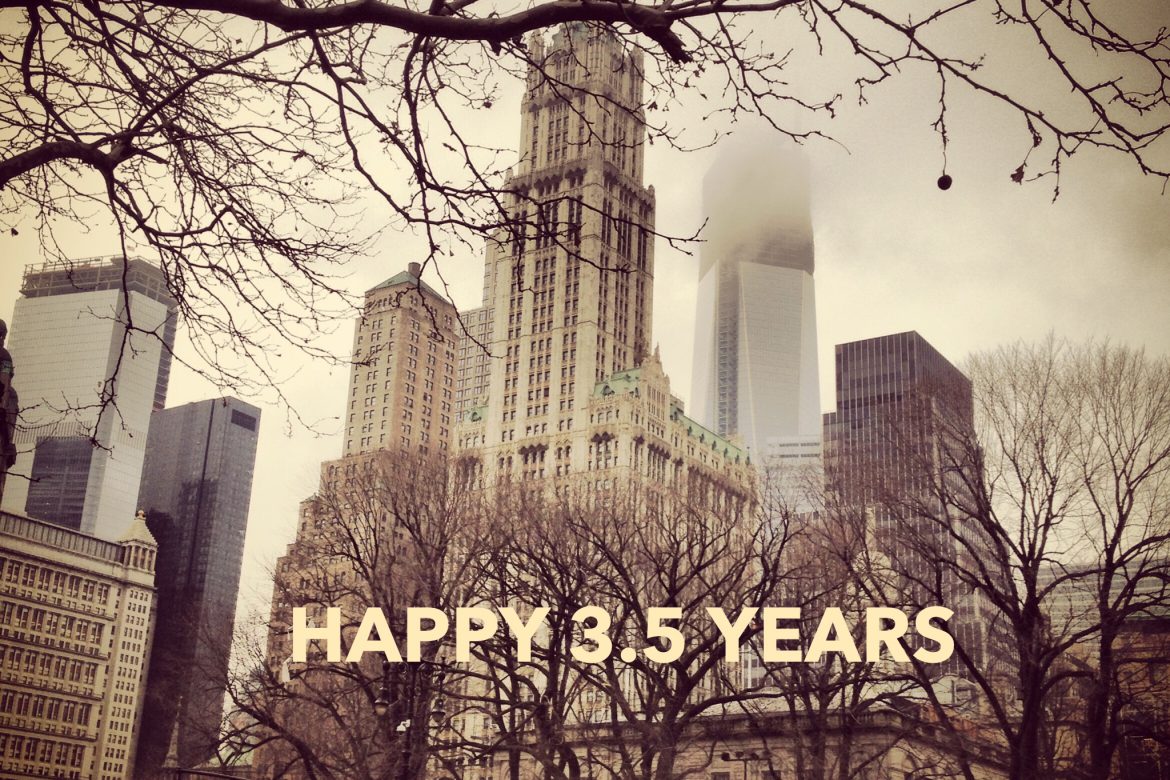 You're Letting Me Leave My Mark On You
Hey there, New York.
It's me again – The Tiny Dancer. We've made another half trip around the sun, which puts us bonded together for 3.5 years. Have you tired of me? I haven't yet tired of you. There's so much we have left to conquer together.
These past six months have been memorable, as they always are. I got a promotion at work and saw the new Ghostbusters movie being filmed while walking to church. I ate dinner while sitting on a couch on a sidewalk in Midtown, and I went square dancing in Bryant Park. I rode a mechanical bull for 25 seconds before being (un)gracefully thrown off, and I met a special woman who has a turtle named Neptune. My friends joined me for another Walk to End Alzheimer's in memory of Meemaw, and we set a new team record of raising over $600. I wore red and cheered on the Rangers at my first hockey game, and I spent my Halloween at Game 4 of the World Series. I met a jazz legend while wearing a glittery reindeer sweater, and I received a surprise pair of earrings that were specially handcrafted for me. I missed out on saying "goodbye" to my sweet elderly neighbor who taught me Greek each night while sitting on his stoop (I had learned "Hello, my friend" and "fat cat," and I performed as a peasant in a park in Brooklyn. I went to a store where I could buy 10-year-old aged tea, and I refrained from buying 10-year-old aged tea. I attended another soul-lifting intensive with David Dorfman Dance, and I binge-watched Gilmore Girls. I performed at a women's conference with some of my closest and dearest friends after only three rehearsals, and I made a snow angel in Blizzard Jonas. I got a rewards card at the local wine shop, and I experienced Allegra Kent throwing carnations onstage after a performance for the second time. I went to my first concert at Madison Square Gardens, and I celebrated my birthday surrounded by your skyscrapers. I performed for Claire Danes and Diane Sawyer (who said the show was enchanting), and I went inside a house that belonged to a college's secret society. I performed a piece that was created by reading scripture, and I again live-tweeted from backstage at The Bessie's. I reunited with friends I hadn't seen in years, and I saw countless weird and wonderful shows.
Hand-in-hand, you've given me some of my life's greatest challenges alongside some of its most exciting moments. You constantly push forward while holding an abundance of history preciously in the crevices of your streets. Your people breathe as one while their individuality shines, and you illuminate hearts with your tangible magic.
You're letting me leave my mark on you, gently embracing it as you have with so many who have come before me. While I continue to weave a path through you, you help me write the story of my 20's.
Love Always,
The Tiny Dancer