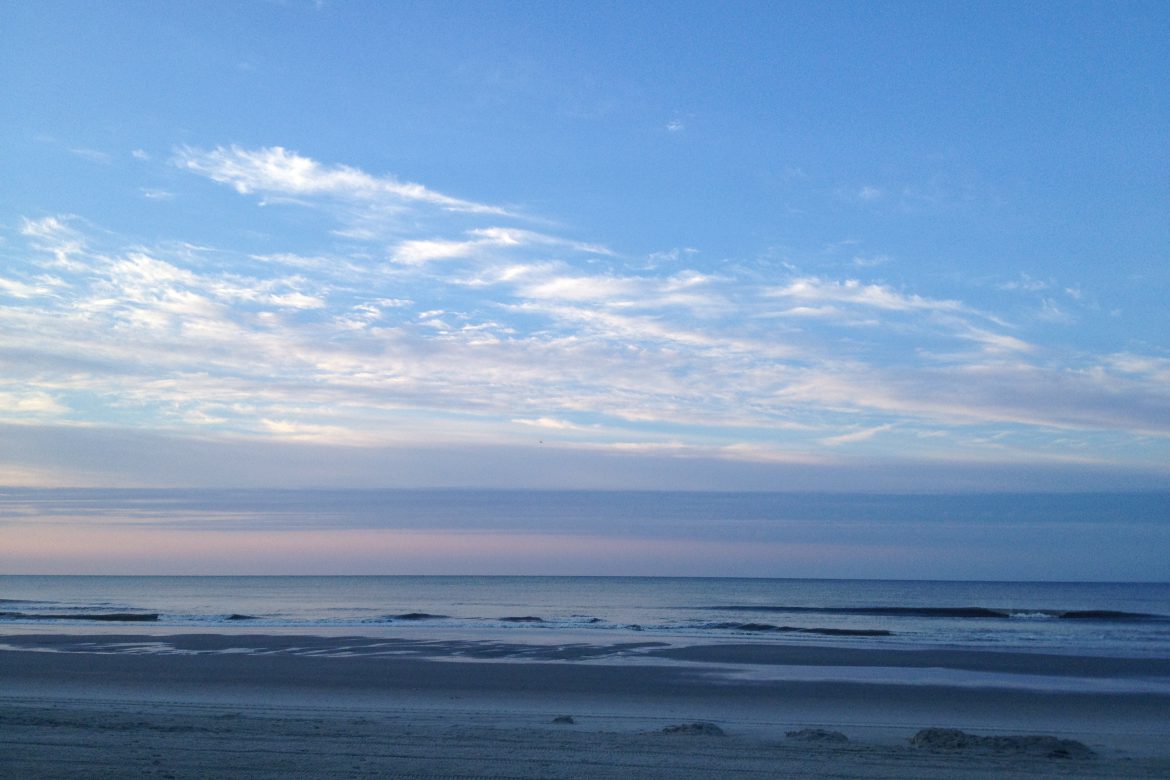 Back to Reality
This past week, my family finally went on another vacation together.  It had been years since the last time we had all been able to get together like that.  Between my brothers doing internships and me going to summer intensives, we just hadn't been able to coordinate schedules enough to get some relaxing time on the beach.  But somehow this year the planets aligned, and all of us – including the boyfriend/girlfriend/fiance – were able to make the trek to spend a few days together with our toes in the sand.
For years, my dad has wanted to parasail.  So yesterday, up we went.  Dangling 400 feet above the blue of the ocean, I couldn't help but look out at the vastness of it all and think how beautiful it was to see nothing on the horizon except for where the water and sky met.  Certainly much different than my view of skyscrapers in the city I now call home.
When we made it back to the beach, a woman talked to us and exclaimed how it was inevitably time to return home and "back to reality."  I thought about this for a brief moment.  I wondered what that meant for her.  It sounded like there was a bit of sadness in her voice.  Certainly no one ever wants to leave vacation, but we must get back to the life we've built.  So, I thought about what that meant for me.
My reality is that I get to live in one of the most interesting and exciting cities in the world and pursue a childhood dream.  My reality is my favorite Sunday afternoon dance class and the family-owned restaurant a few blocks down where they know my "usual".  My reality is putting myself out there until I get a dance job.  No, this reality is not always glamorous.  No, it's certainly not easy or perfect.  But it's worth it.  And I love it.
I loved my life in WV, but I always knew eventually I would leave.  Not because I didn't love the state (once a Mountaineer, always a Mountaineer), but because NYC is the land of opportunity when it comes to what I aspire to do.  I do often miss the beauty that WV has to offer, especially in the fall.  Nothing can compete with WV in the fall.  And I miss the sweet people who will do anything for a fellow mountaineer.  But for now, it's a place to visit and not to live.  For now, I'm in a New York state of mind.  You know – if you can make it there …
But just as I knew I'd eventually venture away from WV, I know that I'll eventually venture away from here as well.  Years and years from now, of course, but eventually.  There's so much to see and do in this world.  NYC is made for my dancing days.  Who knows where my next stage of life will take me, when my reality becomes something completely different again.
As my plane pulled into the airport this morning, I scanned the horizon, finally catching the sight I always need to see in order to feel like I'm really back.  That impressive skyline that sits, waiting for you to enter – welcoming everyone.  Back to reality.